Pompeii. Street Altar at I.12.5.
<![if !vml]>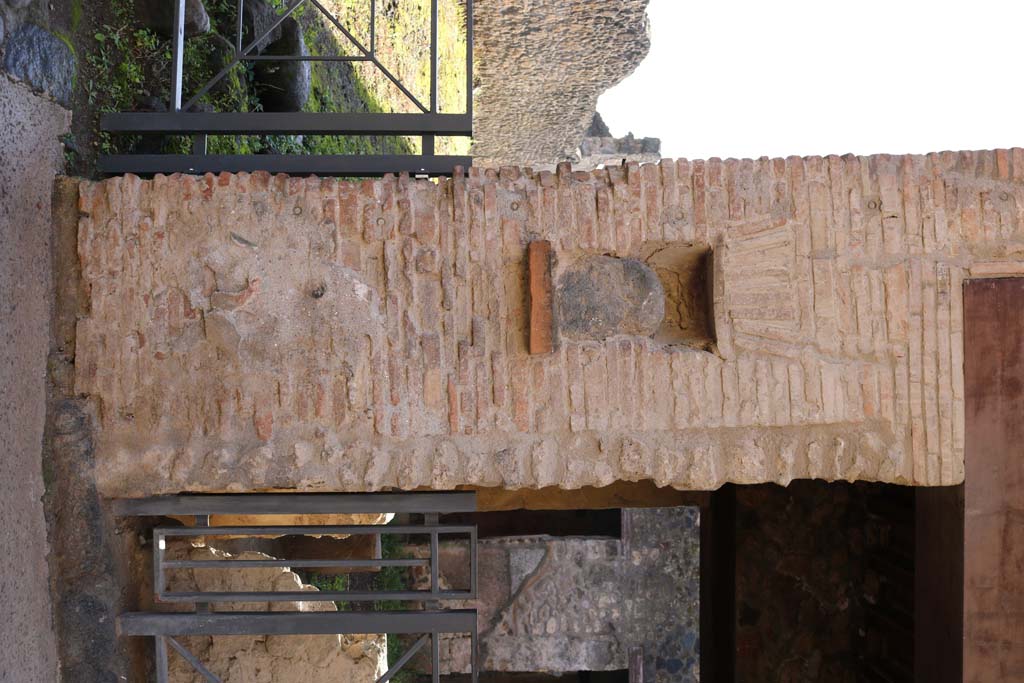 <![endif]>
Street shrine or niche outside I.12.5 Pompeii. September 2005.
This is on Via dell' Abbondanza, at the corner with Vicolo dei Fuggiaschi.
According to Della Corte, on the red pilaster which ended the insula on the east side, two electoral programmes were found.
The first – GAVIVM II VIR.
The second was immediately below the first –
AMPLIATUM L F AED
VICINI
SVRGITE ET
ROGATE
LVTATI F[ac]
The text was placed towards the right, because the pilaster was interrupted in the middle by a rectangular niche.
In the niche was fixed a coarse, rough stone resembling the outline of a human head, not the usual marble bust, as often seen here and there in the street.
See Notizie di Scavi, 1914, (p.204).
According to Epigraphik-Datenbank Clauss/Slaby (See www.manfredclauss.de), these are numbered CIL IV 7442 and CIL IV 7443.
<![if !vml]>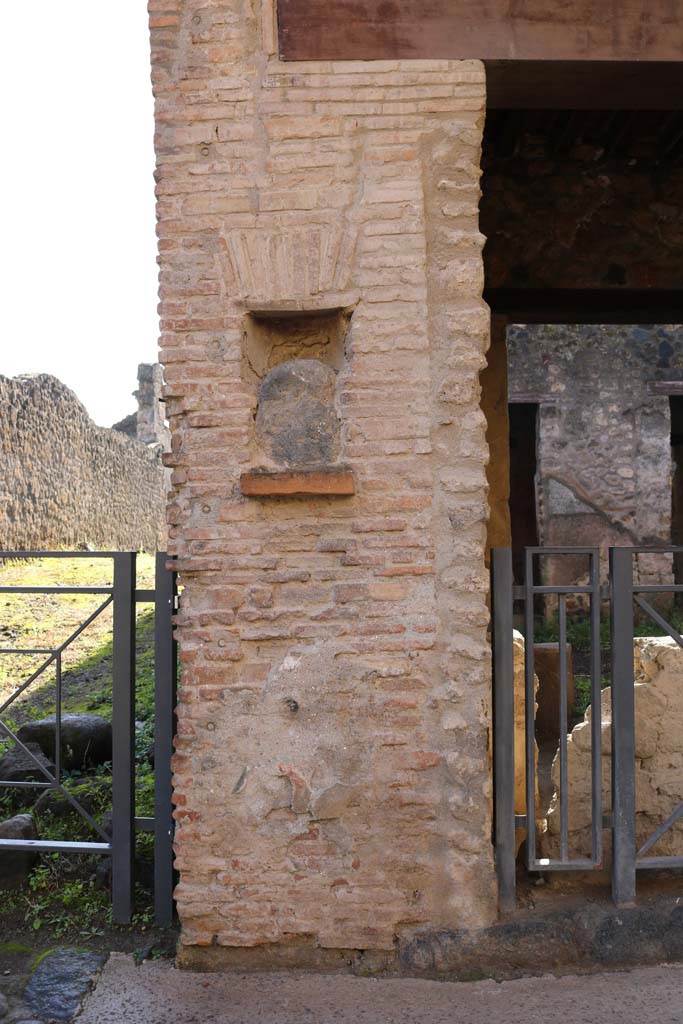 <![endif]>
Street altar outside I.12.5, Pompeii. September 2005. Looking south.
<![if !vml]>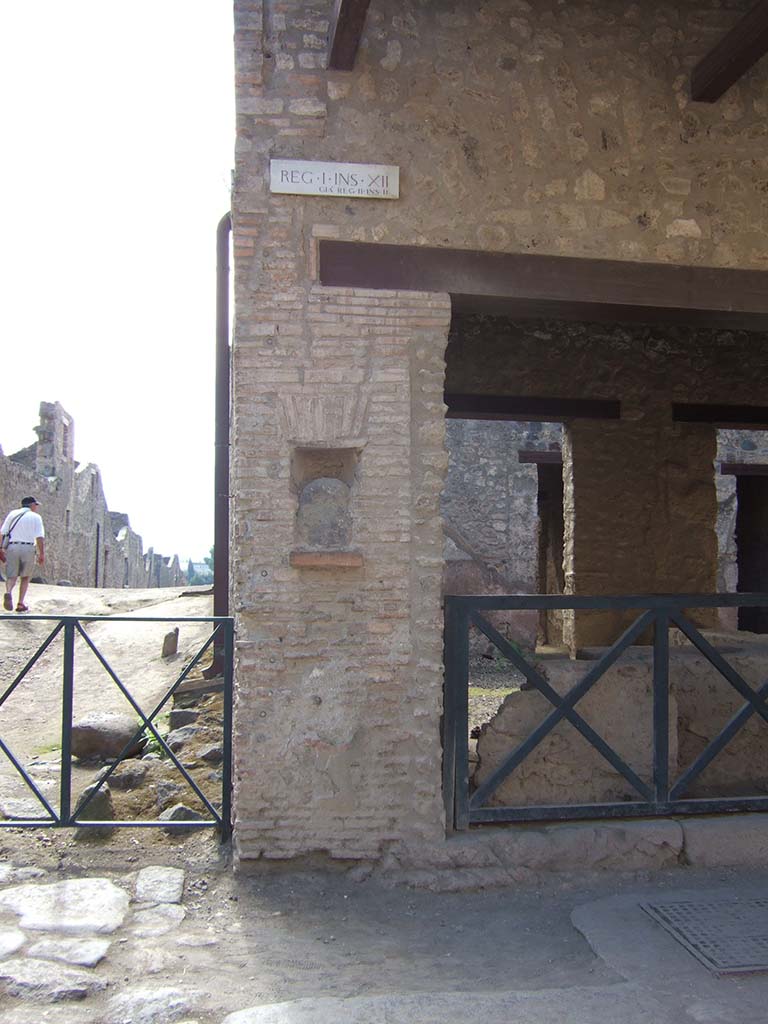 <![endif]>
Street altar outside I.12.5, Pompeii. October 2011. Looking south.
Photo courtesy of Daniel Genot.
<![if !vml]>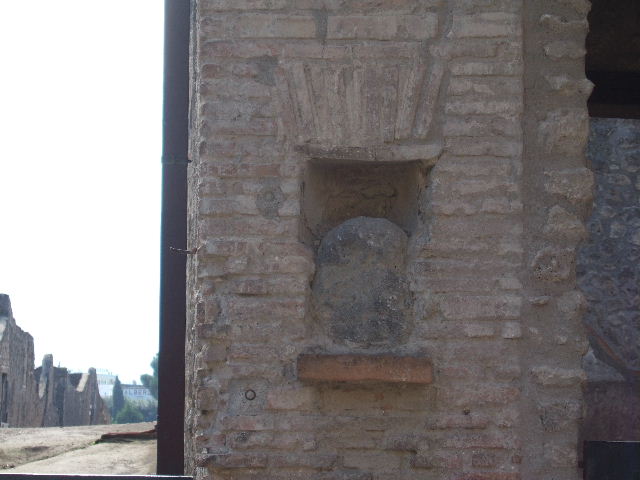 <![endif]>
Street altar outside I.12.5, Pompeii. 1959. Photo by Stanley A. Jashemski.
Source: The Wilhelmina and Stanley A. Jashemski archive in the University of Maryland Library, Special Collections (See collection page) and made available under the Creative Commons Attribution-Non Commercial License v.4. See Licence and use details.
J59f0549
According to PPM, inserted in the rectangular niche on the left side of the doorway was a blue lava stone, which had been a "lava-bomb" erupted during a prehistoric eruption and which was supposed to have been attributed with sacred and magical values.
This was inserted into an apsed rectangular niche, with the lower level consisting of a tile projecting by about 6 cm and closed into the upper area by another tile with architrave under a flat arch in brick.
See Carratelli, G. P., 1990-2003. Pompei: Pitture e Mosaici. Vol. II. Roma: Istituto della enciclopedia italiana. (p.736)