Pompeii Necropoli di Porta Nola. Porta di Nola or Nola Gate Tombs.
Plan of tombs outside the gate.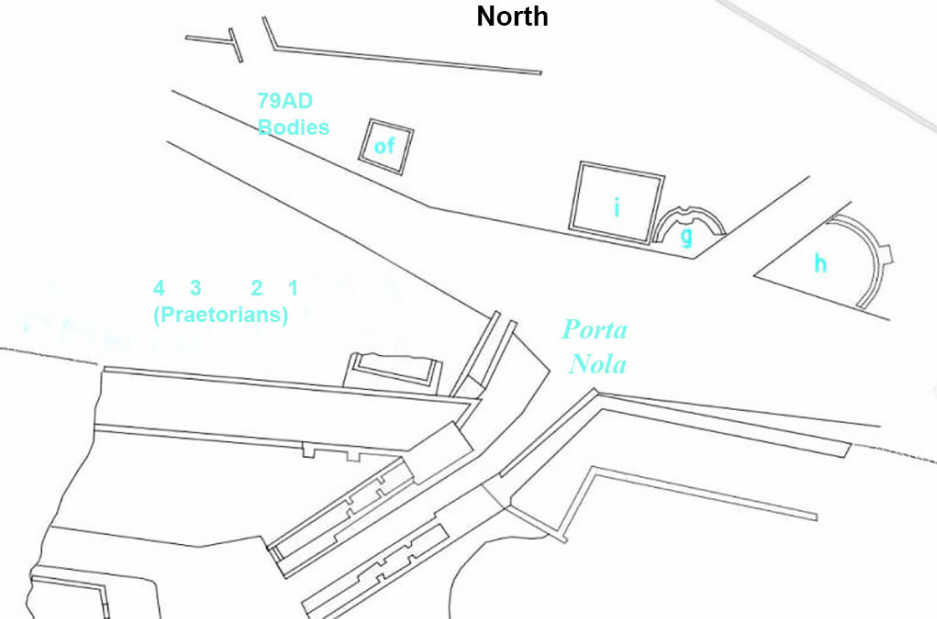 Use this pompeiiinpictures plan of the tombs at the Pompeii Porta Nola or Nola Gate to access the pictures.
Click on any tomb on the plan or a link below to see the pictures.
Plan courtesy of John Dobbins and Pedar Foss, 2008, World of Pompeii, Routledge, Oxford.
NG1 Praetorian; Lucius Betutius Niger, son of Quintus
NG2 Praetorian; An unknown soldier who served 11 years
NG3 Praetorian; Lucius Manlius Saturninus, son of Quartus
NG4 Praetorian; Sextus Caesernius Montanus, son of Spurius
NGG Schola of Aesquillia Polla
NGH Schola tomb with Dionysus symbols, to east of ancient road to Nola.
NGI Tomb garden or bustum?
NGOF Tomb of Marcus Obellius Firmus
Thirty-six urns were also found in the pomerial area south-east of the gate.
These were the so-called culinae, burials of poor people.