III.3.2 Pompeii. Shop. Officinae tegetariae of Graphicus.
When first excavated was known as "Casa Sannitica", III.3.1 and 2.
Excavated c.1914-1915.
<![if !vml]>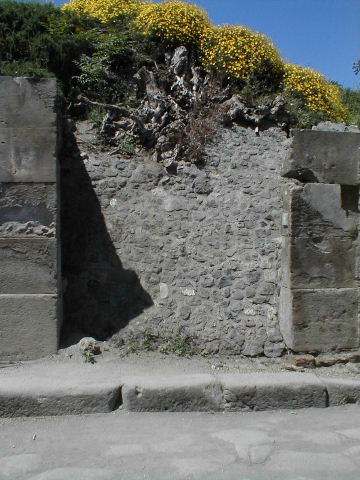 <![endif]>
III.3.2 Pompeii. May 2005. Entrance doorway, partly excavated.
According to Varone and Stefani, on the left pilaster, between III.3.1 and III.3.2 would have been CIL IV 7642 and 7643, which are not conserved.
N(umerium) P(opidium) R(ufum) IIvir(um)
vicini rog(ant) [CIL IV 7642]
<![if !supportLineBreakNewLine]>
<![endif]>
A(ulum) Suettium Verum
aed(ilem) o(ro) v(os) f(aciatis) [3]ct() [3]us
veterarius rogat [CIL IV 7643]
<![if !supportLineBreakNewLine]>
<![endif]>
See Varone, A. and Stefani, G., 2009. Titulorum Pictorum Pompeianorum, Rome: L'Erma di Bretschneider, (p.242-244 with photos).
See Epigraphik-Datenbank Clauss/Slaby (www.manfredclauss.de).