Gragnano. Villa in proprietà Liguori, via dei Sepolcri.
Excavated 1969.
Giuseppe Di Massa
<![if !vml]>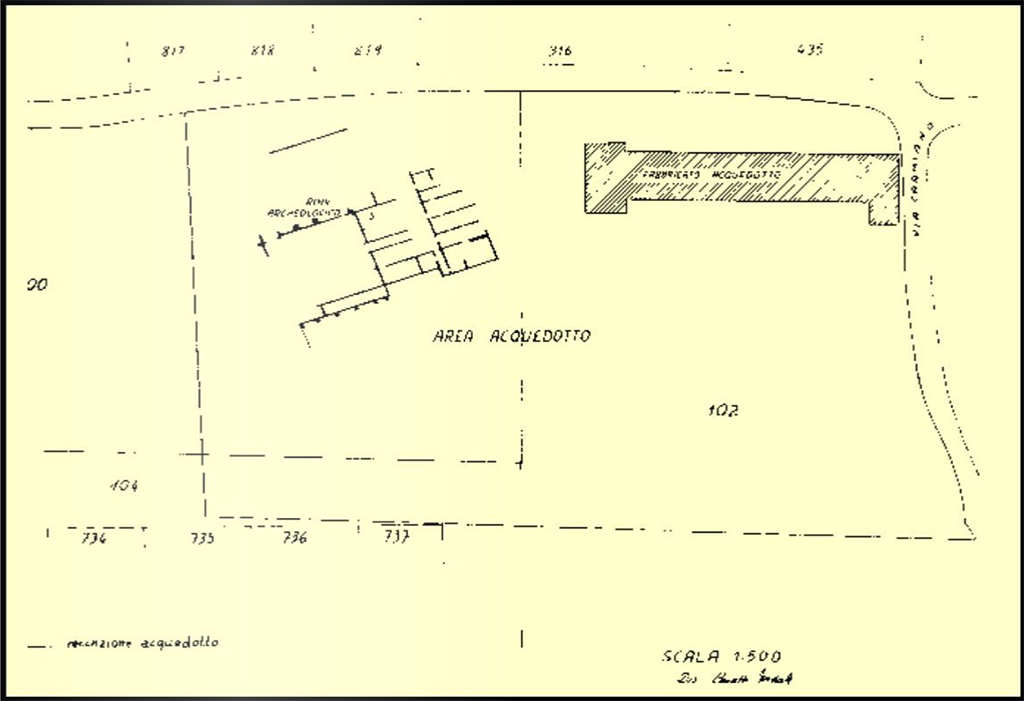 <![endif]>
Gragnano. Proprietà Liguori, via dei Sepolcri. Plan
Vedi/See Di Massa G. 2000. Il Territorio di Gragnano nell'antichità e l'ager Stabianus, Castellamare, p. 23.
According to Di Massa, the villa was discovered in 1969 during works for the installation of the Campano Aqueduct water tanks and is now re-buried. A dozen rooms were excavated on the north side, partly intended for housing and partly for storage. There was in fact a torcularium and a wine cellar. The entrance was to the west, the farmyard to the south.
Secondo Di Massa, scoperti nel 1969 nel corso di lavori per l'installazione dei serbatoi idrici dell'Acquedotto Campano, sono attualmente interrati. Furono scavati una decina di ambienti nel lato nord, in parte destinati ad abitazione ed in parte a magazzino. Vi era infatti un torcularium e una cella vinaria. L'ingresso era ad ovest, l'aia a sud.
Vedi/See Di Massa G. 2000. Il Territorio di Gragnano nell'antichità e l'ager Stabianus, Castellamare, p. 23-4.
Vincenzo Pellegrino
According to Pellegrino, P. Miniero informs us of the excavation, carried out in 1969 during public works. The villa has been investigated only in part and limited to the wine cellar and the torcularium, together with residential areas. The threshing floor stretched south of the complex. The latter, brought to light only in part, does not involve direct access from the internal rooms of the villa, and is delimited to the west by a wall of maximum length shown on the plan of 11.60m.
Secondo Pellegrino, dello scavo, effettuato nel 1969 nel corso di lavori pubblici, ci informa P. Miniero. La villa è stata indagata solo in parte e limitatamente alla cella vinaria e al torcularium, insieme a dei quartieri abitativi. A sud del complesso si estendeva l'aia per la trebbiatura. Quest'ultima, messa alla luce solo in parte, non comporta un accesso diretto dagli ambienti interni della villa, ed è delimitata a ovest da un muro di lunghezza massima riportata sulla pianta di 11,60 m.
See Pellegrino V., 2017. Granai e spazi per lo stoccaggio e per il trattamento dei cereali nelle villae rusticae vesuviane. MEFRA 4506, para. 20.
See P. Miniero, Ricerche sull'ager Stabianus, in R. I. Curtis (a cura di), Studia Pompeiana & Classica in honor of Wilhelmina F. Jashemski, New York, 1988, p. 238.
Référence

électronique
Vincenzo Pellegrino, « Granai e spazi per lo stoccaggio e per il trattamento dei cereali nelle villae rusticae vesuviane »,
Mélanges de l'École française de Rome - Antiquité [En ligne], 129-2 | 2017, mis en ligne le 03 avril 2018,
URL: http://journals.openedition.org/mefra/4506  ; DOI : 10.4000/mefra.4506